Athleisure is a trend that almost no one, regardless of their personal style, has been immune to. There are several reasons as to why this is so. One of them is the convenience – athleisure allows you to transition from one daily 'role' to another without having to change outfits. Another is supreme designs that make creating these comfortable yet versatile outfits possible and finally, there is the immense evolvement of the trend which has created an environment in which every person can inject as many or as few athleisure elements into their outfit, and hence follow the trend while still fostering their signature style. So, with this kind of possibilities when it comes to variety and ways in which athleisure can be rocked, the fashion sky truly is the limit, so let's see how fashionable New Yorkers have put their imagination to use and created amazing athletic combos.


Unexpectedly alluring

Well, this is definitely new, and we've witnessed plenty of quirky athleisure moments. One of the fashionistas of NYC was spotted rocking cut-off shots and the newly trendy cowboy boots, with her leopard print duffle bag in hand. The surprising athleisure twist is to be found in the two-toned logoed sweatshirt, which makes this look completely different than it would have been with a button down or anything else for that matter. Just when you think the cowboy style and athleisure could never mix, here they are, alive and stunning. This is bound to go global, we are sure of that.


The power of suits

The oversized suit has been all the rage for a very long time, along with a shirt with just one side tucked into the pants. We cannot get enough of the look and wish everyone would suit up. However, now, instead of the killer heels you have the fashionista and designer stamp of approval to rock your amazing New Balance sneakers, and essentially have your cake and eat it too. It's office-appropriate, what with the looser dress code and everything, and it looks comfortable and chic on the streets as well, so it's a double win. All you need is a chic designer bag and you're golden.


Simple and classy

Now this is an athleisure look almost any woman could pull off whether she's headed to a fashion show, a brunch, running errands or even having lunch at a nice restaurant. A trendy net bag – one of the remains of the summer, paired with a simple but gorgeous green knit sweater dress and a delicate pendant just for added chicness. The look was completed with a pair of simple running shoes that take nothing away from the overall casual chicness yet make the look a whole lot more interesting.


The upside down

As said, sneakers aren't mandatory in order to exude athleisure vibes. You can be wearing a traffic-stopping sporty yellow rubber ensemble with a pair of block-heel mules and still look chic and athletic at the same time. Monochromatic rubber outfits have been all the rage ever since Calvin Klein released the famous yellow rubber dress and we have to admit, they look amazing albeit we don't know how breathable and comfortable they are. But hey, sometimes you have to suffer for fashion and that's just the way it is.


Romantic athleisure

This version might just be an absolute favorite, because it allows you to create the perfect amalgamation of the romantic and dressy components and those more athleisure-inspired ones. Case in point – a gorgeous and delicate skirt with floral embroidery, a matching embroidered crew sweater, a chic bucket bag with round handles and then boom – chunky Gucci sneaker boots. The juxtaposition of the utter romance against the harshness of the sole on the shoes is incredible, and despite everything, it seems to work, and we for one are in awe of the bravery and vision. All this look is missing is a great red lipstick, and some amazing false lashes in order to exude those glam romantic athleisure vibes.


In the original form

Then again, there are times when you either can't be bothered or you simply foster that laid-back look but you still want to be on point and on trend – what do you go for then? You pull off a Bella Hadid, put on a simple black crop top, knee-high cargo pants, throw a fanny pack over your shoulder, leave the hair nonchalant and free and top it off with a simple green jean jacket. Effortless athleisure at its finest.


The hard to miss

The neon colors have been insanely popular ever since the fall lines were introduced, and people seem to have finally snagged their neon hoodies and fleece jackets. It is a part of the whole athleisure movement, which did give people the freedom to dress however they want, and many have embraced the 'traffic cone' look. One such fashionista is the one wearing what seems to be a neon orange hoodie with a few intricate details, wide black pants and open-toed block-heel boots. This is definitely a strong look, its wearability outside the fashion week realm is up for debate, but within this crowd, it surely blends in, poignant hue and all.
The final takeaway – sneakers look good with everything and athletic attire looks great even without sneakers. We promised the sky is the limit and NY fashionistas helped us prove it.
READ MORE: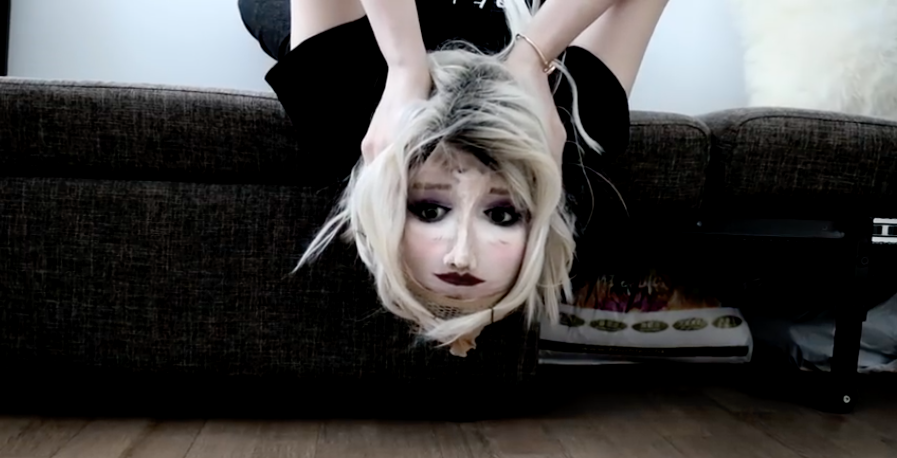 Every Halloween it seems that many YouTube bloggers come out and try to outdo each other with very creative and crazy Halloween make-up tutorials.
Seems that for this year there is already some one way up front from everyone else to inspire your Halloween night aesthetic. You wont even need a costume.
YouTube vlogger Taylor R shared her tutorial on the platform on how to achieve a very impressive "upside down reverse make-up" look:
Products used:
Glue stick
Kryolan Translucent Powder
Kryolan TV Paint Stick
Anastasia Beverly Hills- Brow Wiz (Taupe)
Benefit Brow Volumizing Fiber Gel (#1)
Ben Nye- Clown White
Morphe Eyeshadow Palette
Jill Stuart Gel Eyeshadow (Diamond Snow)
Kate Liquid Eyeliner (Black)
Kylie Cosmetics Eye Pencil (Black)
Makeup Forever Eyeliner (Beige)
Majolica Majorca Lash Expander Edge Meister (Black)
Kryolan Nose & Scar Wax
Kryolan Spirit Gum
Kylie Cosmetics LipKit- Rosie

To achieve the Halloween-ready look, Taylor began by masking her eyebrows in glue and powder in order to hide them.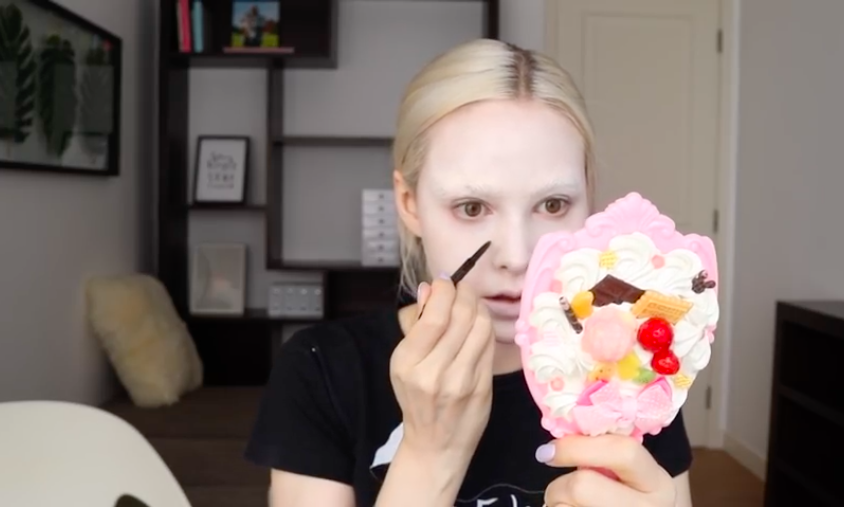 Then, she began to apply her make-up upside down by drawing faux brows beneath her eyes and applying fake lashes.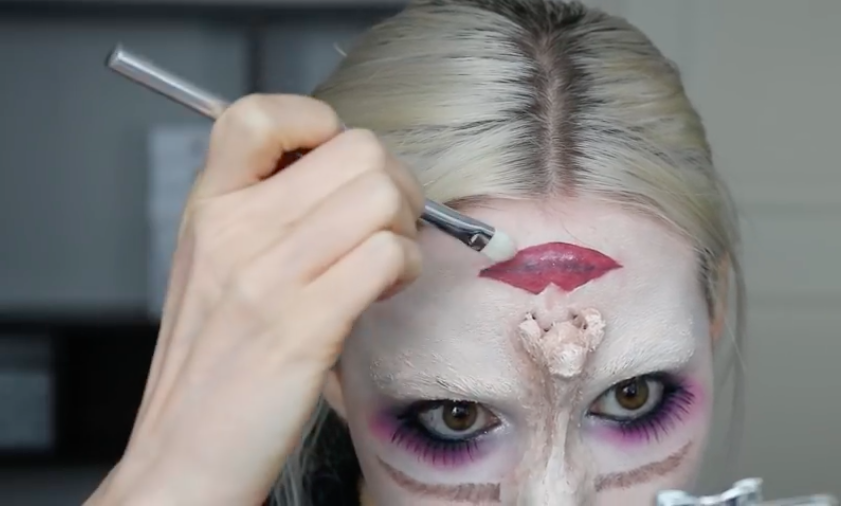 The Canadian blogger drew fake lips and also added a prosthetic nose which is something you will definitely need to practice a few times before Halloween.
She also concealed her hair to finish up the cool upside down effect. Then she threw on a wig to show off the final look which I'm sure will be pretty popular this Halloween.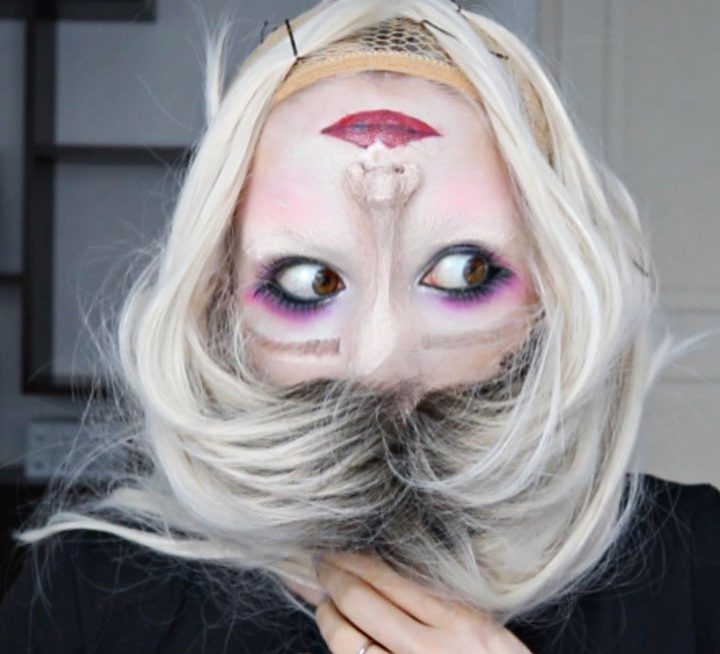 If you master this crazy looking aesthetic then you deserve all the candies and treats! One thing for sure is this look completely beats those boring cat ears from last year!


$10.00 OFF YOUR ORDER AT WWW.MADAMEMADELINE.COM – CONTINUE READING BELOW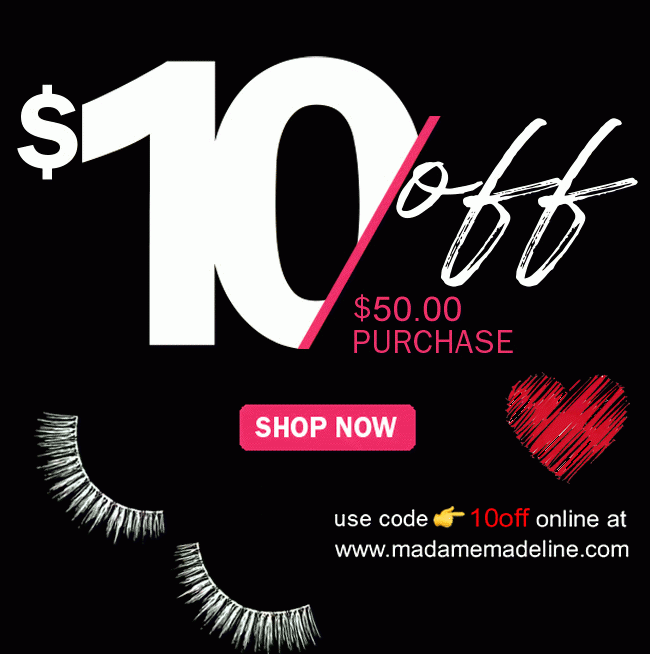 NEXT LOOK: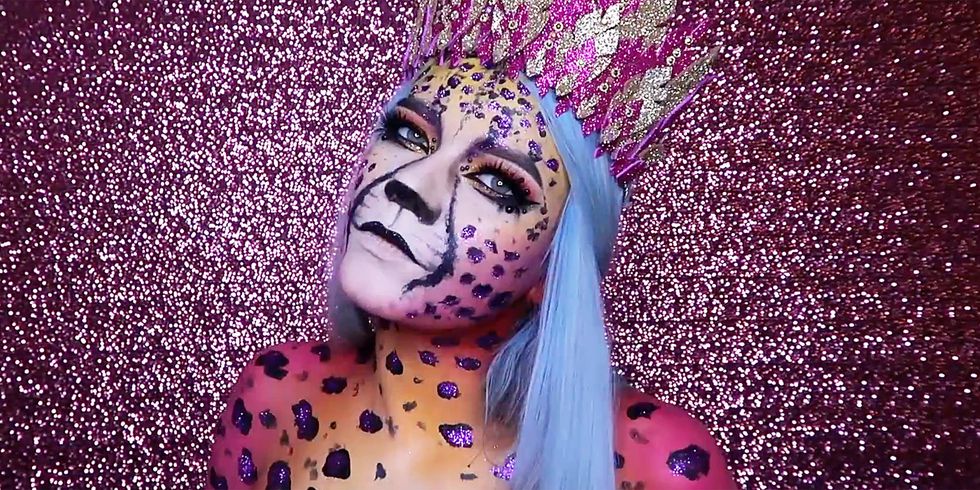 This Lisa Frank-Inspired Cheetah Makeup Look Is the Ultimate Throwback Halloween Costume

Like a walking trapper keeper.

Source: Cosmopolitan (http://bit.ly/2Pdv1lK)

With body makeup this intense, you don't even need to do an eye look. But if you want to take your costume to the next level, like makeup artist Yana Kravchenko did, start with a bold cat eye and big false lashes. Then, follow the below steps for how to execute the rest of the look.
Product Used:
@mehronmakeup
Paradise AQ: black, brown, yellow, pink, red.
Paradise Glitter: Black, Gold
Celebre PRO HD foundation.
Water based adhesive.
STEP 1: APPLY YELLOW FACE PAINT.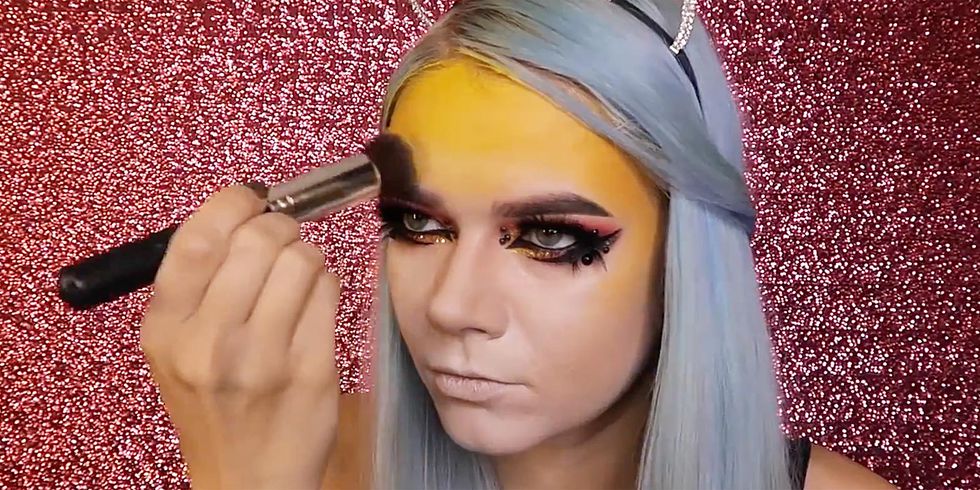 Use a dense, flat foundation brush to blend yellow paint around your forehead, temples, and along your hairline.
STEP 2: ADD PINK FACE PAINT.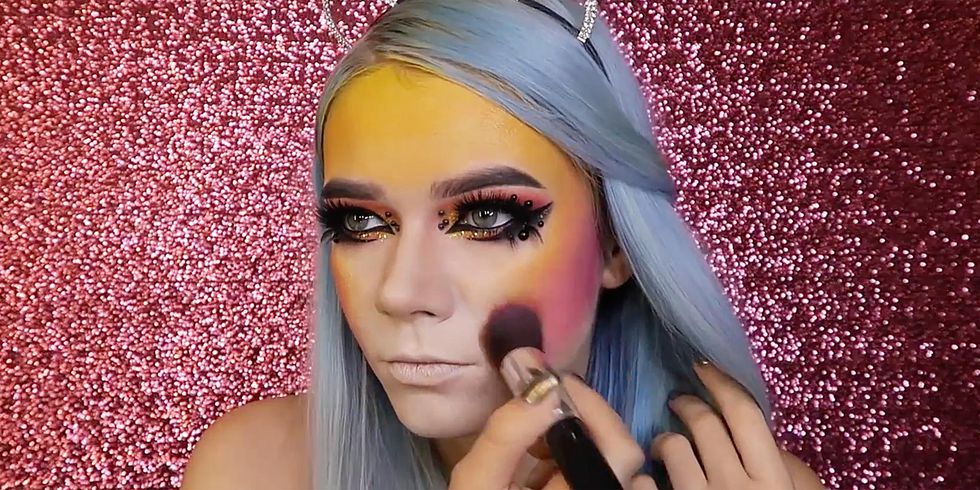 Use a similar brush to blend bright pink paint onto the lower half of your face. Then, blend the pink into the yellow along your cheekbones to create a gradient effect.
STEP 3: DRAW YOUR NOSE.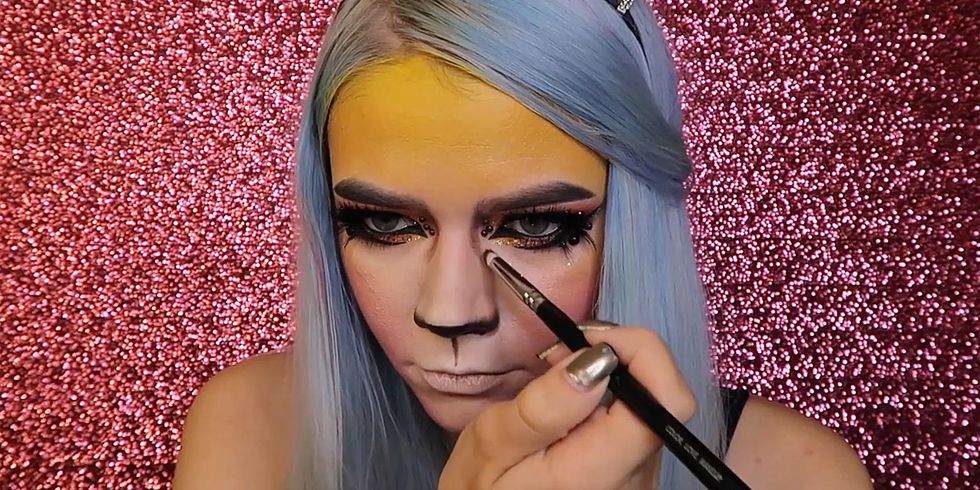 Use a small compact shadow brush to paint the tip of your nose black, and then paint a thin line down the center of your upper lip. Next, use black eye shadow to contour the sides of the bridge of your nose.
STEP 4: SHADE IN YOUR FOREHEAD.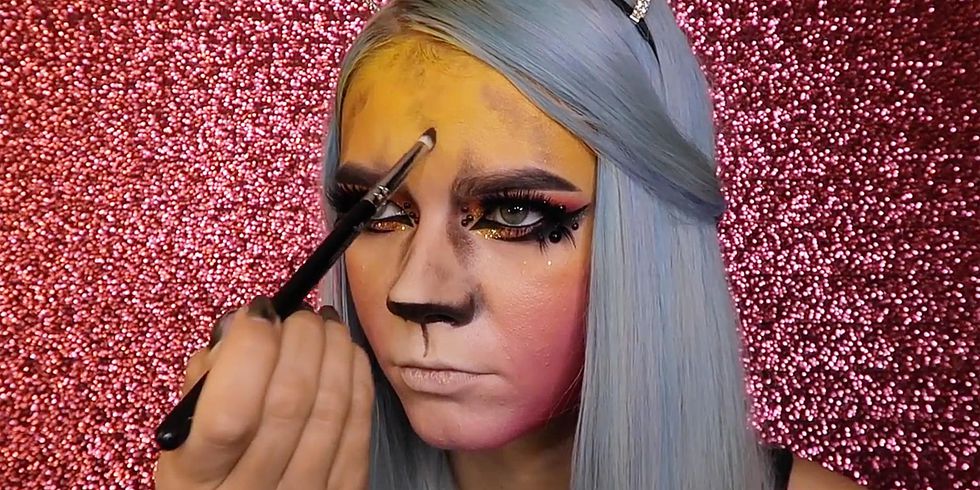 Smudge the same black shadow in small abstract shapes on your forehead to create the texture of fur.
STEP 5: DRAW THE SHAPE YOUR MOUTH.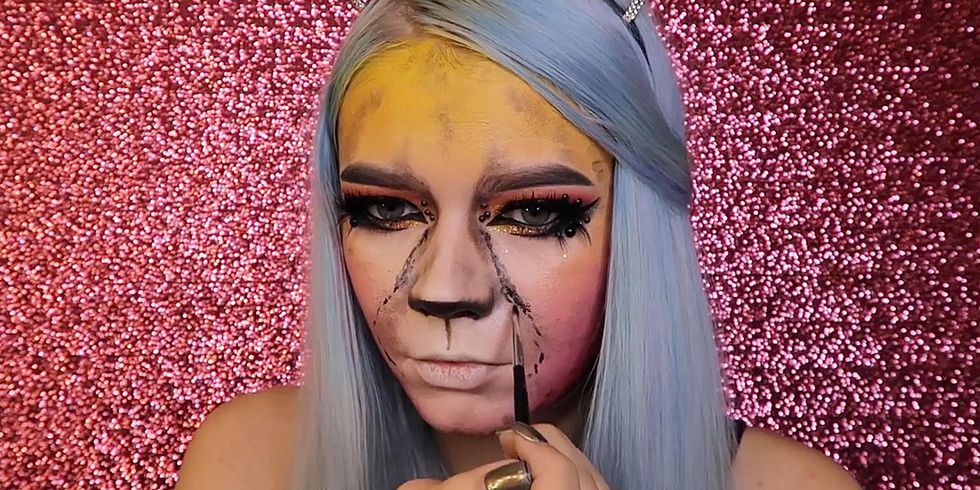 Use a fine-tip brush and black paint to draw a pear shape around your nose and mouth using tiny imperfect strokes.
STEP 6: ADD WHISKERS.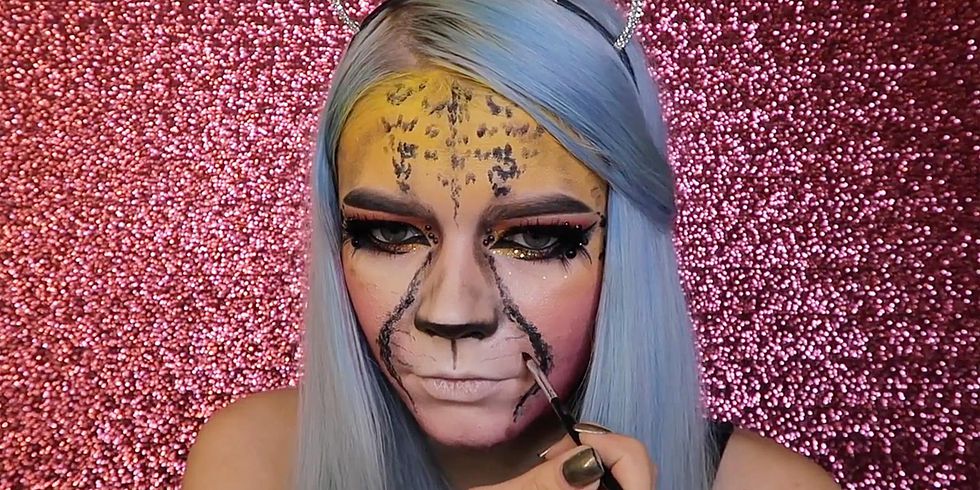 Use the same fine-tip brush and black paint to sketch out faint whiskers around your mouth.
STEP 7: PAINT YOUR SPOTS.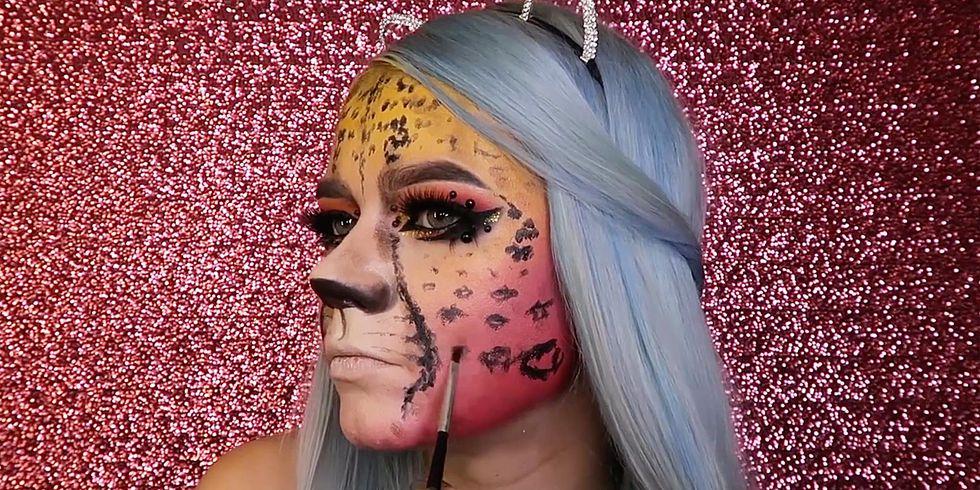 Then, using the same brush and black paint, create spots around your entire face. The more organic and abstract the shapes, the more realistic your makeup will look.
STEP 8: PAINT YOUR UPPER LIP.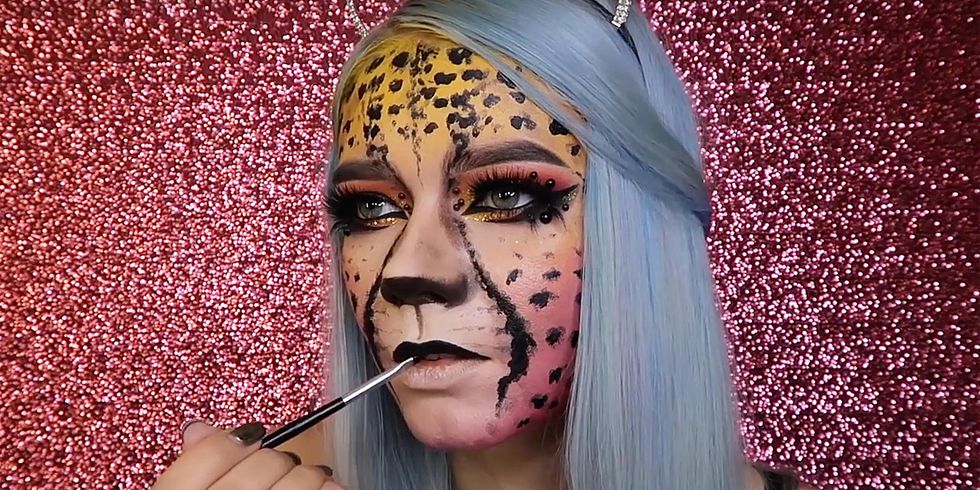 Use black lipstick, or the black paint and brush you've been wielding, to fill in your upper lip completely.
STEP 9: ADD GLITTER.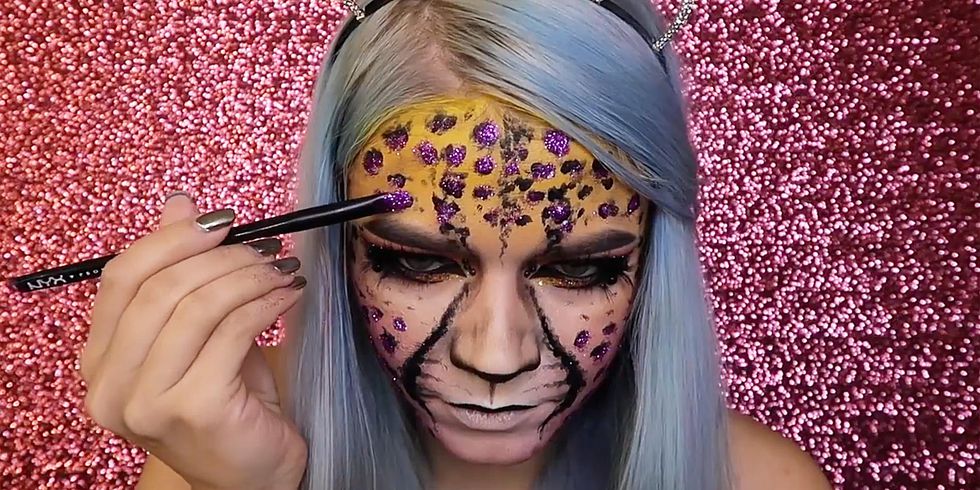 Top the black paint around your mouth with black glitter to make it pop. Then, add purple glitter to the center of the black spots around your face.
STEP 10: PAINT YOUR NECK AND SHOULDERS PINK.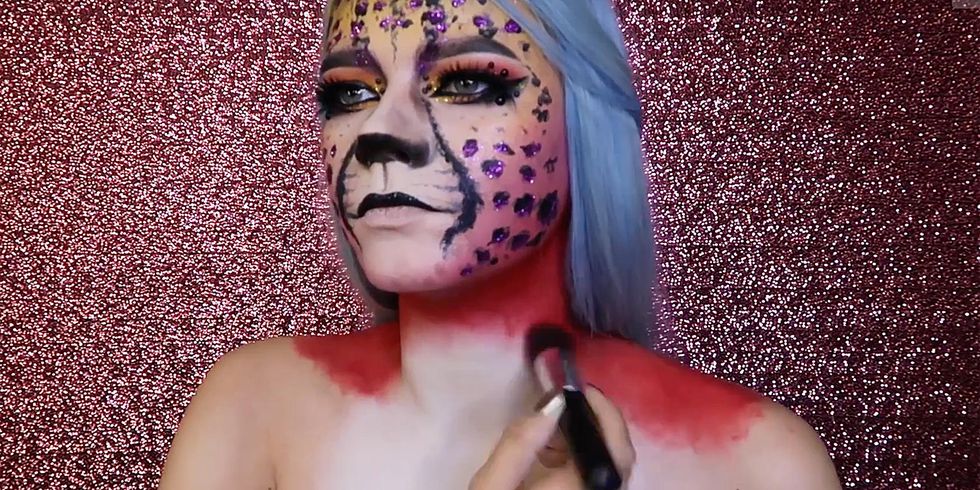 Now that your face is complete, begin painting your upper body. Start with the same pink paint you used on your face and apply it on the underneath of your jaw, the top of your neck, and tops of your shoulders, blending it downward.
STEP 10: PAINT YOUR CHEST ORANGEY YELLOW.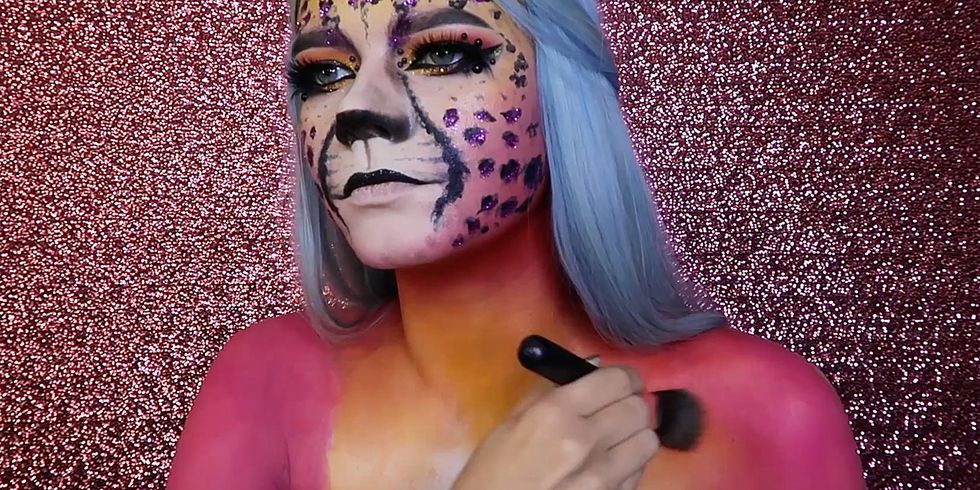 Paint the center of your chest with an yellowish-orange shade, before blending it out and fading it into the pink.
STEP 12: DRAW BLACK SPOTS ACROSS YOUR UPPER BODY.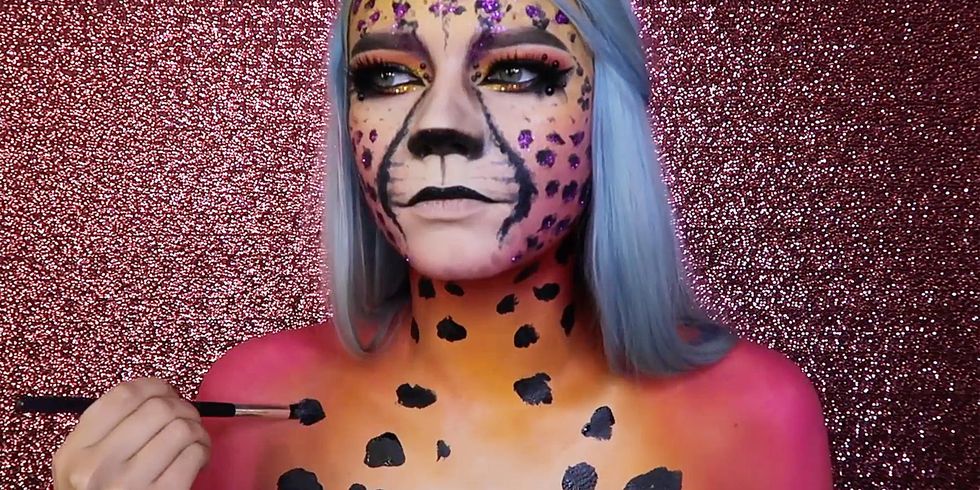 Paint black spots in varying sizes over your chest and shoulders.
STEP 13: ADD GLITTER.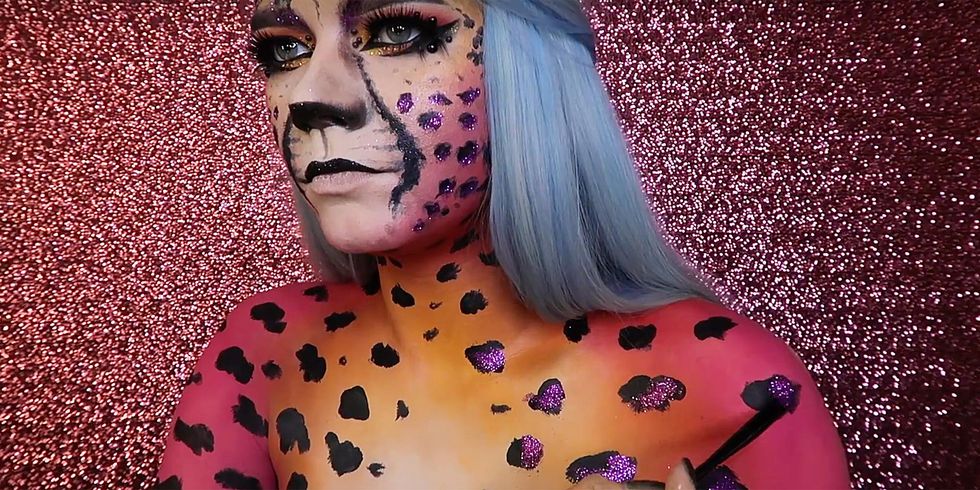 Just like you did on your face, add purple glitter to the center of each of your black spots.

FINAL LOOK: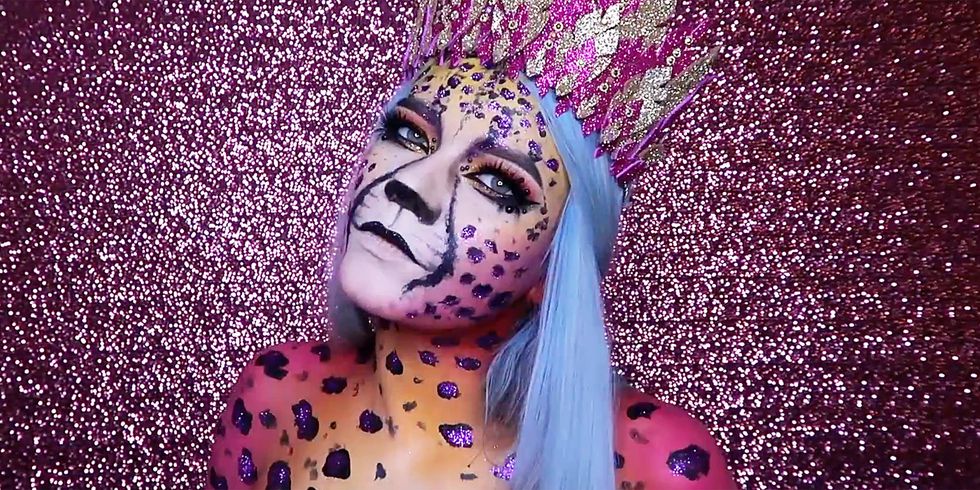 CLICK BELOW TO GET THE NEW DUO QUICK SET ADHESIVE FREE!!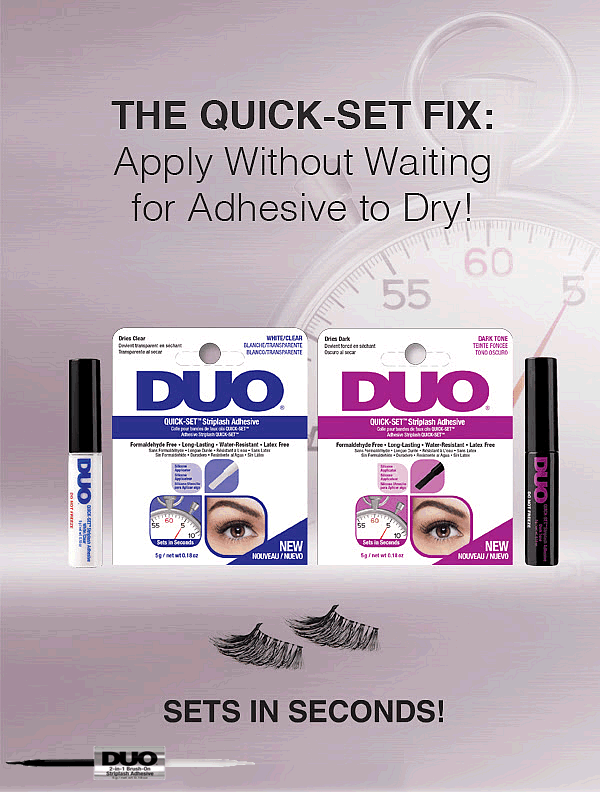 WATCH NEXT
This Lion Halloween Makeup Look Is Ferociously Gorgeous

Or lioness, if you will.
Source: Cosmopolitan (http://bit.ly/2EMcEk2)
Sure, you could just throw on a pair of cat ears and call it a costume, but where's the fun in that? Keep reading to learn how to transform the shape of your eyes from human to cat-like in this easy-to-follow tutorial by artist Madison McNabb.
Makeup tools used to create this look:
Details:
@lorealmakeup true watch W6
@urbandecaycosmetics naked concealer
@anastasiabeverlyhills brow wiz in dark brown
@anastasiabeverlyhills modern renaissance
@anastasiabeverlyhills Contour kit in medium
@sigmabeauty loose shimmer in midsummer
@nyxcosmetics jumbo eye pencil in milk
@lauragellerbeauty calligraphy liquid eyeliner
@vickylashes_ in Vicky
@nyxcosmetics lingerie lipstick in satin ribbon
@lauragellerbeauty gilded honey
@tartecosmetics blush in paaarty
_______________________________________
STEP 1: SHAPE YOUR BROWS.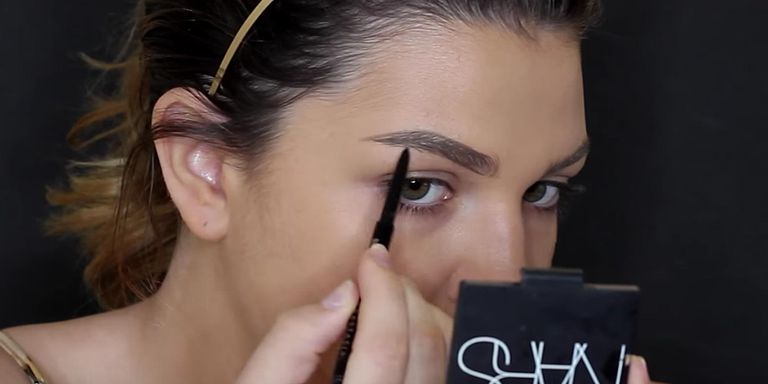 Use whichever brow products you prefer to shape and fill in your brows. Now is the perfect time to try the brushed-up look.
STEP 2: BLEND BROWN SHADOW INTO THE CREASES OF YOUR EYES.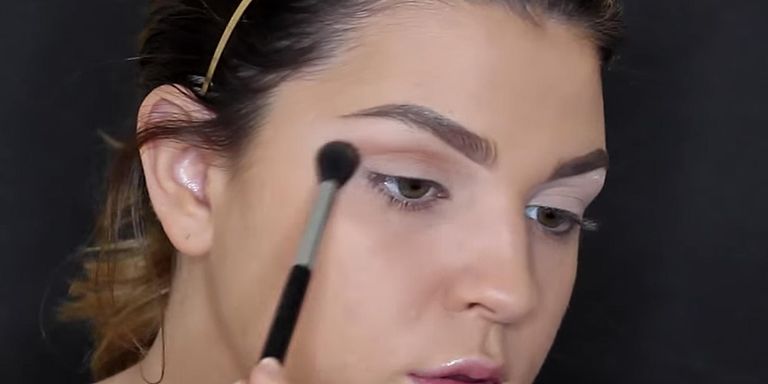 After you've coated your lids with concealer or primer, dust a light neutral powder on top to set the base. Then, use a fluffy brush to blend a matte brown shadow into the crease of your eye, slightly extending it past the outer corner.
STEP 3: ADD A CUT CREASE.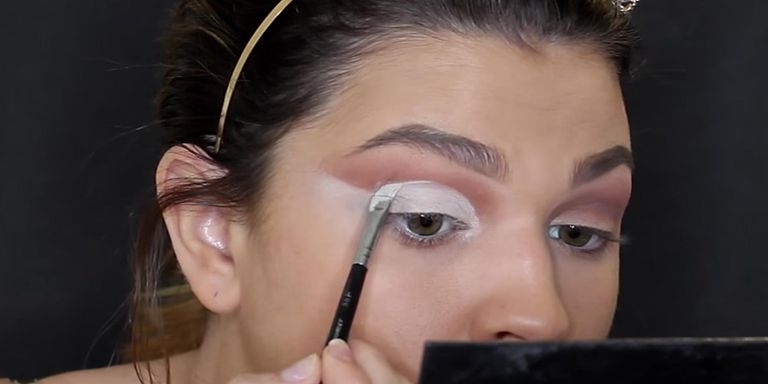 With your concealer and a flat, compact brush, cover your entire eyelid with a super light cover-up. Extend the formula past the outer corner of your eye to create a winged shape, prepping that area for the cat-eye you'll soon draw on.
STEP 4: DEFINE THE CUT CREASE.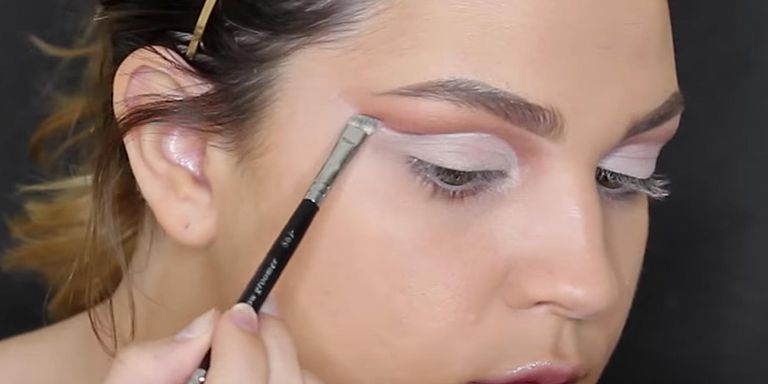 Use a fine-tip brush and a dark matte brown shadow to sharpen the edge of the concealer, making your cut crease more intense.
STEP 5: ADD GLITTER.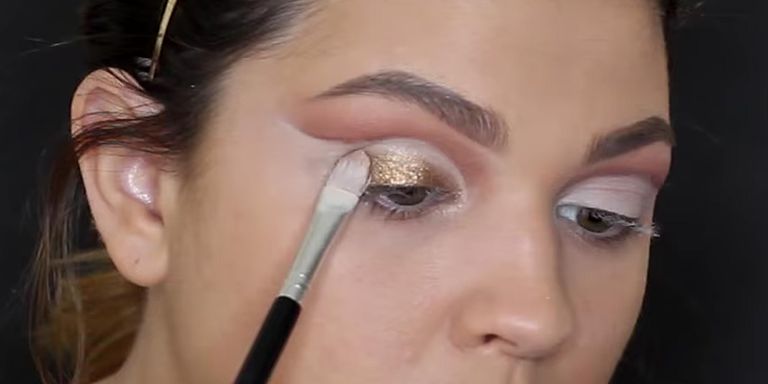 Then, cover your entire eyelid with gold glitter or pigment.
STEP 6: DRAW A CAT EYE.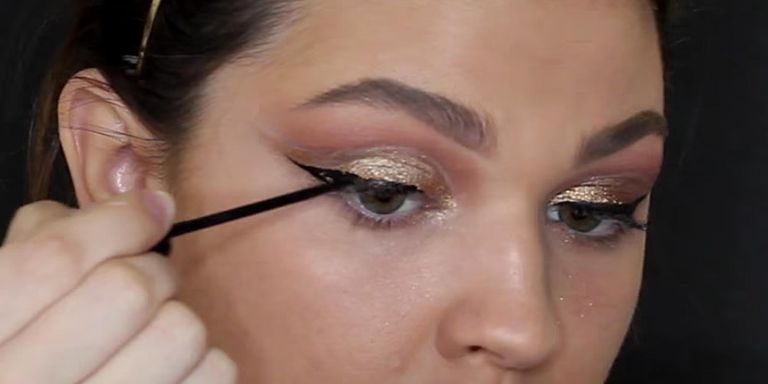 Use black liquid liner and draw an exaggerated cat-eye. Apply a few coats of mascara to your top lashes only and top them with falsies to intensify your eyes.
STEP 7: CONTOUR AND HIGHLIGHT.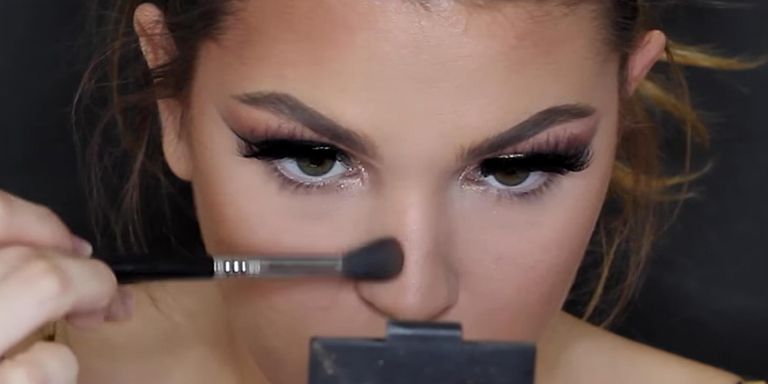 With a matte contour powder, chisel out the area under your cheekbones, along your hairline and temples, and down the sides of your nose. Then, use a gold shimmer highlight to make the tops of your cheekbones, the middle of your nose, and the top of your Cupid's bow pop.
STEP 8: LINE YOUR BOTTOM LASHES WITH WHITE EYELINER.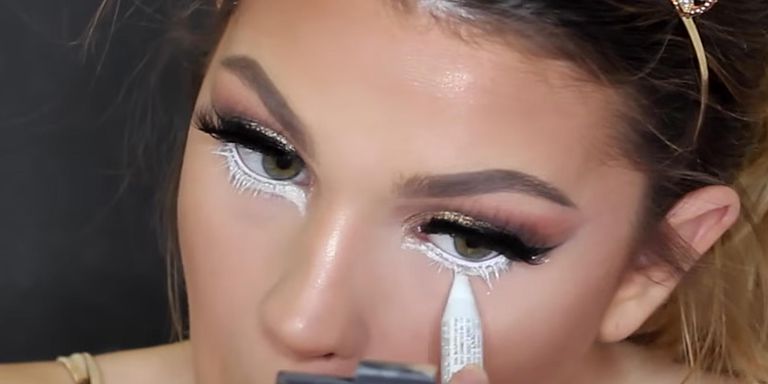 With white eyeliner, line the inner rim of your bottom lashes from the inner "V"corner of your eye to the outer corner. Then, continue lining underneath your lashes until the entire lash line is covered in white. This will create the illusion that your eyes are much bigger and more cat-like than they are.
STEP 9: DEFINE THE WHITE LINE.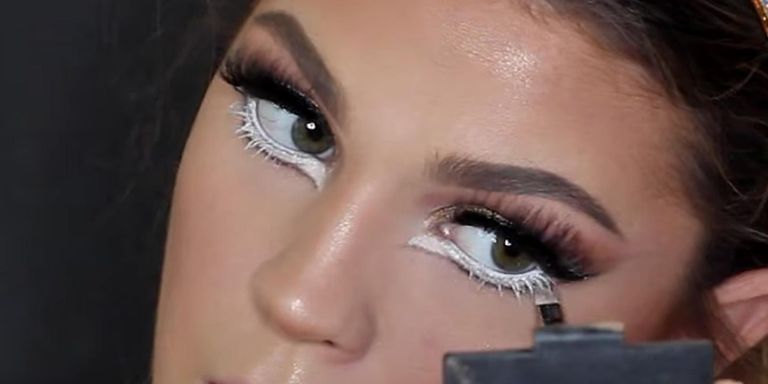 Next, line the outside edge of the white liner with a fine-tip brush and dark brown shadow. Then, use a pointed shadow brush and a lighter brown or taupe shade to crate a smudge out the brown line underneath the white.
STEP 10: PAINT YOUR NOSE AND TOP LIP BLACK.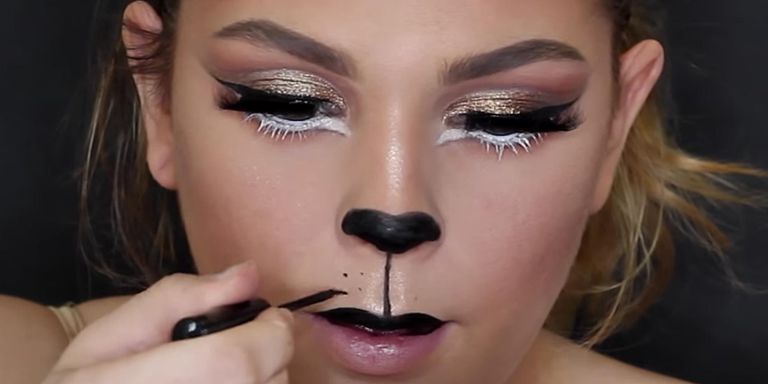 Use black liner or face paint to color in the tip of your nose in the shape of a lion's. Next, draw a line from your nose down the center of your upper lip. Fill in your upper lip solid black, and then use the tip of the brush to draw tiny whisker spots.
STEP 11: APPLY NEUTRAL LIPSTICK TO YOUR BOTTOM LIP.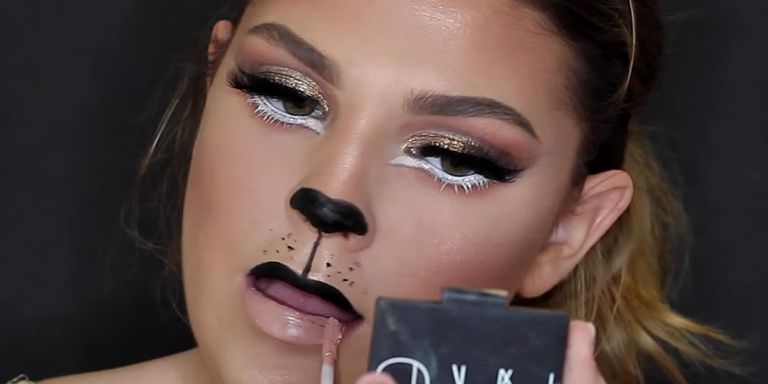 Apply a neutral lipstick that works for your skin tone over your bottom lip and you're done!
FINAL LOOK: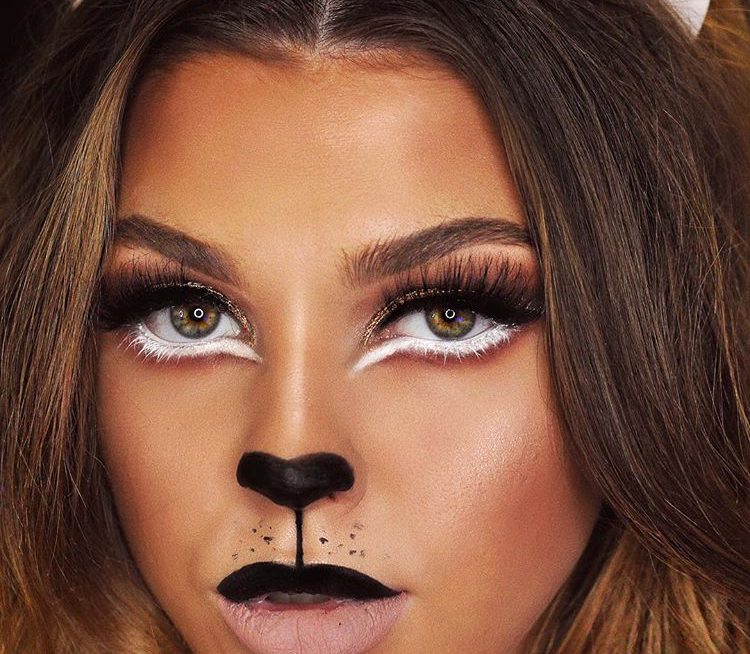 $10.00 OFF YOUR ORDER AT WWW.MADAMEMADELINE.COM