Ladies: Now You Can Rock Any Style You Want!
Don't we all just love to be the recipients of compliments? We surely do! But we love it most when they're for the pretty, sexy and natural looking, long and thick lashes that are pretty much all the lovely ladies out there crave. We are always fussing about this not being right and that going all wrong with our appearances. At times, we aim for a particular look and end up getting the total opposite of it when we are finally all made up and ready to get out for a nice evening.
But don't worry, because Ardell is here for your rescue! In fact, it's increasingly becoming the choice of false lashes for most of the Hollywood A-List beauties too. Women tend to exude confidence when they feel their eyes can say it all.
Ardell Natural Multipack Demi Wispies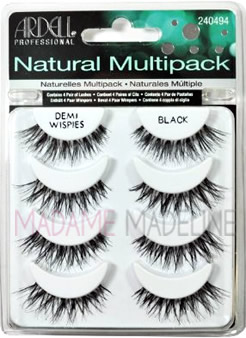 You all can relate to times when you really need that finishing touch to your eyes with falsies but then seconds later you realize that you've just run out of them. For all those in a rush, Ardell Natural Multipack Demi Wispies come in a convenient, four-lash value pack to spare you the horror of running out of your valuable lashes at most Important of times. Demi Wispies give you a natural looking criss-cross style, seen in real eyelashes, so carry off the look of a thick lashed beauty and flirt away with these authentic looking falsies. These are a great look for ladies with large, round, almond-shaped eyes who are looking for a slightly glamorous look on a wonderful night.
Ardell Invisibands Demi Wispies
For those who seek a brand of falsies for a purely natural look on a night out, Ardell Invisibands Demi Wispies are equal to finding a whole treasure chest in this instance. This style also known as Ardell Natural Lashes Demi Wispies are feathered and knotted by hand to perfection for a uniformity that you can only see in authentic criss-cross design lashes and are so lightweight and comfortable, you feel as if there is absolutely nothing on your eyelids! This popular lash style helps lengthen, volumize and define your natural lashes. These lashes are great to make your eyes instantly noticeable with added glamour. They are good for lash pros as well as indecisive beginners who don't want to spend too much but also want a high-quality lashes!
Ardell Natural Baby Demi Wispies
For those seeking a shorter, more demure lash look for every day wear to compliment outfit or a day at work, Ardell Baby Demi Wispies is the perfect choice. Baby Demi Wispies are half the length of regular Ardell Demi Wispies lashes to create enhanced density along the eye's outer edge. This Babies Demi Wispies lashes provide a naturally authentic criss-cross design as seen in real eyelashes to accentuate all eye shapes for a softer, effortless, and refreshing look!
Ardell Natural #120
No matter what your eye shape is, Ardell Natural #120 is a style of falsies that is made for one and all. If you want a fabulous, lush set of lashes, #120 is what you need to opt for.  Like Ardell Demi Wispies Lashes, Ardell #120 is a criss-crossed lash strands design false lashes that are great for most eye shapes. These medium length Ardell lashes have graduate length and are uniquely hand woven with shorter lash at the inner corner and slight longer lash flare towards the outer corner for an eye-opening and refreshing look.
They are made from human hair and are 100% sterilized to give you long thick lashes and are ideally suited for evenings out and about, and holidays and parties.
Ardell Lashes offer numerous styles that can fit your personality, lifestyle and mood. This celebrity-loved brand  features premium human hair and synthetic hair line of lashes designed to naturally enhance and accentuates your natural eyelashes for a natural and fluttery look. Whatever the occasion may be, you can count on Ardell to help you achieve the look you want. Madame Madeline Lashes are home to a large number of false eyelash brands to decor eye looks with endless possibilities!. Get all lashed up with Ardell , visit www.MadameMadeline.com or get some ideas on their facebook page for lash looks, comments and reviews.
Hint, use code FL15 to save 15% Off Ardell Demi Wispies and other