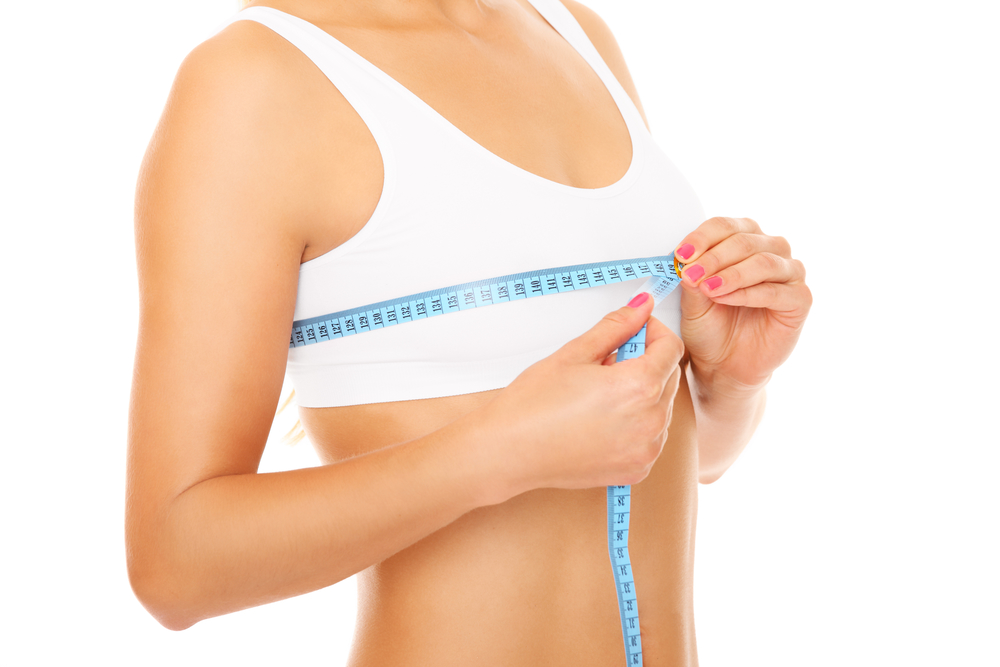 Being flat-chested has its pros and cons. Pro: you can wear deep v-necks without leaving too much on display. Con: sometimes you need more curves up top to balance your outfit.
If you like the upsides of having a tidier upper body, surgery's not an option. And so, you have to find other solutions that aren't quite so drastic. Thankfully, there are some easy ways to make your chest look bigger. Read on for eight of my favorite chest-enhancing strategies.
Have a Professional Bra Fitting
Studies have shown that most women are wearing the wrong bra size. If the band or cup size you reach for at the department store is not right for you, any padded bra or push-up style won't deliver the full impact. Worse, you might end up with a lumpy and/or misshapen chest, which isn't flattering on anyone.
Your first step to a bigger-looking chest, then, is to get a professional bra fitting. Most department stores offer this as a free service — take advantage of it before you buy another bra.
Try Every Padded and/or Push-up Bra You Can Find
Armed with the right bra size, you're now ready to shop. You're on a mission to find the brands and styles that are most flattering on your body. Be prepared to invest time in this effort, because not all padded bras fit the same.
It's also likely that different styles will look best with a certain type of top. So I'd recommend wearing at least two layers when you shop. Try a fitted cotton t-shirt and a looser, flowy blouse. Then you can preview each bra under a tight top and a loose top.
Definitely leave your false eyelashes at home for this trip. You'll be pulling shirts over your head more times than you can count — and you're likely to lose that fake eyelashes without even noticing.
Know that some bra styles add volume with padding, and other styles enhance your cleavage by compressing your breasts to the middle. Rarely will one bra do both. Again, you might decide you like the cleavage boost with one top and the extra curves with another. Just keep notes as you shop, and you should have a nice shopping list at the end of the day.
Try Chicken Cutlets
Chicken cutlets are silicon bra inserts. You slip them into your bra (in lieu of socks or other homemade padding!) for extra volume. Some women love these with cleavage-enhancing bras.
Add Contouring with Bronzer
You can contour your chest in the same way you contour your face. Just a touch of shading gives a nice illusion of curves. Experiment by shading around the breasts and the sides of your neck, using a shade that's only slightly darker than your skin tone. And then blend until your contouring is barely visible.
Work Out Your Upper Pectoral Muscles
Your upper pectoral muscles sit behind your breasts, and strengthening those muscles can lead to perkier, fuller-looking breasts. Working out won't actually make your chest bigger, but it can create more support for your top half. And that generally means your breasts will seem fuller because they're not sagging.
Consult with a trainer at your gym on exercises that might work for you. Push-ups, fly lifts, wall presses, crunches and dumbbell lifts can all strengthen the pectorals.
Wear V-Neck Blouses
V-neck blouses draw the eye straight to the chest area, which can make your top half seem larger. Experiment with different styles, from wrap-style tops to button-downs that you can leave unbuttoned almost down to your bra.
Experiment with Ruffle Tops
Flat-chested women can rejoice, because ruffle tops are trendy and widely available this season. Look for styles with ruffles that are horizontal, from shoulder to shoulder. A ruffle that lays on top of your chest will have the most impact, particularly when paired with a slimmer pant or pencil skirt.
For Small-Framed Women: Wear Tight Tees and Tops
If you have a very small frame, a form-fitting top can emphasize your chesty curves. This strategy is best for women who have a narrow waist — but it can backfire if your bottom half is much larger than your top half.
Also experiment with thin, contrasting belts. These accentuate your small waist, which in turn makes you top half look bigger in comparison.
For Curvy Women: Loose Tops with High-Waisted Bottoms
High-waisted bottoms paired with a loose top, tucked in, creates the appearance of that coveted hourglass shape. Whether you choose a high-waisted skirt or trouser, it should sit at the smallest part of your waist. Then, when you tuck a billowy blouse in to those bottoms, you are emphasizing the difference in size between your waist and your chest. And that naturally makes your chest look bigger.
A little bronzer, maybe a new bra or two, and the right outfit choices go a long way towards giving you those curves you crave. And the best part? No surgery required!

—
Catherine Brock is a style editor and writer who caters to the budget-minded fashion enthusiast on her website thebudgetfashionista.com. You can also connect with Catherine on Instagram @budget.fashionista.
Magnetic eyelashes: Do they work?

There is a new trend that is currently picking up pace. It promises to give wearers of false lashes, long lush lashes without having to use any adhesive.
It is known that magnetic lashes will not cause any damage to your natural lashes, but do they actually work?
Two women decided to test the trend.
Tyra tried the Ardell lashes, which can be applied over the entire top lash line. it took a couple tries, but she finally got them to stay on.
Though the lashes felt heavy, Tyra said she liked the way they looked.
"I do like the style. I think it's just trying to get them on," she said.
Moneka tried the magnetic lashes in "bold" and "natural." Also it took her a couple tries and finally managed to get them to stay on too. The only thing that she wished was better was for the product to fit her real lashes a bit better.
"It would be nice if they tapered off a little bit, instead of just being one straight length. I think it makes it pretty obvious that they're not real, not even close," she said.
You won't perfect the art of applying these lashes right away but with a littile practice it can easily be achieved,
Will you try magnetic eyelashes?
Read more https://www.madamemadeline.com/false-lashes/give-these-ardell-magnetic-lashes-a-try/