Celebrity looks are some of the hottest looks in fashion and we can't help imitating them. While they can afford the best of runway styles, there are ways you can manage to look equally chic on a budget. Afterall, good taste is not something that can be bought!
Here are 10 ways to look like a celebrity while being well within your budget:
1. Jeans

Jeans is a basic wear, a must-have for any wardrobe. Always, opt for jeans according to your shape and size. The fit of jeans makes a huge impact on your overall appearance. It can make you look tall and toned or short and bulky. So, choose wisely! Jeans are meant to be a comfortable piece of clothing and if you aren't comfortable in them, chuck them. Opt for the latest trends in boyfriend, mom, and flared styles. Skinny jeans are a big YES, always. They are extremely versatile and can be paired with absolutely anything.
2. Top

Opt for the latest styles, go for V neck, cropped, off-shoulder and bell-sleeved and ruffled designs. Silky camisoles are HUGE right now among celebrities and look super dainty and pretty. Play with patterns with checkered, striped and floral tops that add a whole lot of chic and style to your outfit. A white tee is a must-have in every wardrobe. Layer a corset belt on top to achieve the hourglass shape that every celebrity flaunts. A simple yet classy attire for a drinks night out.

3. Accessories

With accessories, it's "go big or go home." Opt for larger than life gold hoops or throw on glistening silver tassel earrings. Accessories are a great way to add a fun element or incorporate a bright color to your outfit. You should include at least one statement accessory in your look. It can be a gorgeous necklace, a chunky bracelet, or even a statement handbag. Body chains are always a major celebrity hype and can make your look extremely sophisticated and up-to-date.
4. A Sexy Dress

Gigi Hadid wore an extremely sexy and stylish gold dress for her birthday and it is the talk of the fashion town even till today. Bodycon dresses are a must-have in every celebrity closet and in yours if you want to copy their style. Elevate your look by opting for a thigh-high split or a low V neck dress. Opt for geometrical shapes, studded or embellished dresses that look expensive and modish. You can also try the latest corset dress for a hot look. Brands like Fashion Nova offer a lot of dress options that are seen on some of the hottest celebrities like Kylie Jenner and Cardi B.
5. Footwear

There is some truth to the saying that a man is judged by his shoes. And, women too! Heels can give the illusion of a taller look while flats look simple and pretty. Stick to classics like pointed pumps or strappy heels for a fail-proof look. Nude colored shoes can seamlessly fit into any style and any color scheme. Opt for transparent heels that can be worn with your dress and for a casual wear, go for high-top sneakers. They're a personal favorite of the Kardashians! Brands like Asos, Zara and Topshop offer stylish footwear at affordable prices that are spotted on celebrities as well.
6. Athleisure Outfits
Celebrity airport looks are some of the hottest looks today, thanks to the rise of the athleisure trend. Trousers and comfy leggings have become fashion styles that are taking over the fashion industry. They are extremely affordable and can be worn at any time of the day and for any occasion. Step it up with heels or snakeskin boots like Kim Kardashian or dress them down with sneakers the way Kourtney does. Either way, the only thing you're guaranteed to get is a lot of celebrity sass.
7. Hair

Celebrity hairstyle changes every month but don't be fooled- they usually use wigs to easily switch between different styles and prevent hair damage. Hair coloring can be a big task, you can try different colored hair highlights that can easily be removed. Switch between straight, curly and wavy hairstyles and gulp down some shimmery, viniq vodka as you flaunt a glamorous look. Or try wigs in different styles- synthetic wigs cost a lot less as compared to human hair wigs. Just make sure to use one that looks natural and suits your face shape.
8. Makeup

Celebrities cease to exist without makeup. Period. All the high cheekbones and well-toned legs and the perfect nose contours are nothing but well crafted and perfected makeup done by professionals. Experiment with different brands especially drugstore ones. Many drugstore brands actually offer some great products but are usually underrated due to their low price. But cheap doesn't mean it's a bad quality product. Complete with a fake eyelash and a dab of highlighter, you can try celebrity style in no time. Opt for drugstore brands like Maybelline, NYX, LA Girl that offer a wide variety of affordable makeup. Remember with makeup, practice makes perfect!
9. Sunglasses

Sunglasses have become more of an accessory and they deserve all the extra attention because they are so important to nail a celebrity look. They are worn by celebrities to cover up a no-makeup face, to an event, for travel as well as to fashion events like The Met Gala. Sunglasses have the ability to take your outfit from mediocre to high fashion in no time. And they don't have to be of a top brand, just opt for the latest styles and use it as an accessory to nail any outfit.
10. Extra Accents
Celebrities are not afraid to dress bold or try a different style in an uber exaggerated way. Remember, it's never enough if you're a celebrity. So, get glowing with an extra layer of highlighter on your skin, get the shiniest shoes you can find and go big with extra layered and long false eyelashes.
Lastly, feel good about yourself, dress the way you want, and don't forget to be your fabulous self!
Author-Bio
Jessica Smith is an avid reader who enjoys getting lost in the world of books. Holding on to her passion for fitness, she is also caught by the fashion bug. She has been writing for Truecorset for some time now. A traveler by heart, she enjoys meeting new people and experiencing new cultures.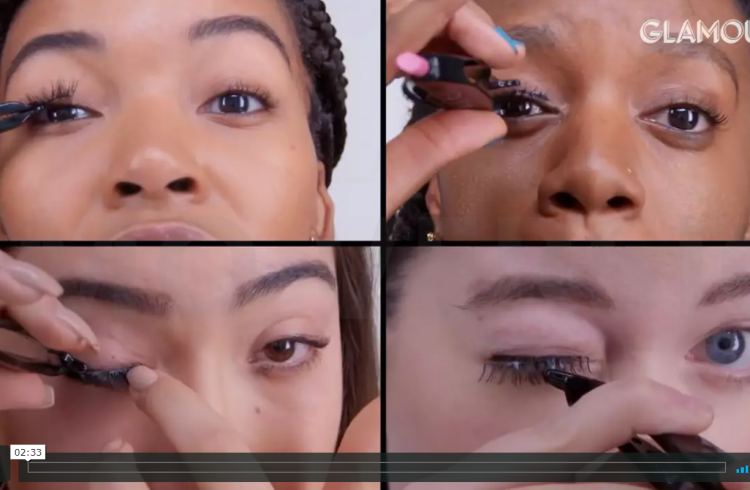 Putting on false eyelashes is not something you can master right off the bat!   Around the 7th time you might start to get the hang of…